Having very low expectations for this episode turned out to be a good thing, as it often is, because it left me pleasantly surprised.



Sam and Dean actually talked about things, and there were neither angels nor demons. It's a Halloween miracle.



I'm not going to do a play by play of the entire episode because the only thing we really need to get out of this is that it was a classic MOTW parallelling the boys' situation, which I always appreciate. And this one kind of had a twist. One the one hand, it was obviously supposed to be Tasha=Dean. Yet the story of Kate saving Tasha by turning her into a monster, without her knowledge or consent, and then losing control of her in the end and being willing to kill her if it's the only way to stop her – well, that's a perfect mirror of Dean saving Sam in S9, isn't it? It doesn't align as neatly to S10 so far. But I know that's what it's supposed to do, so let's run with it.



It begins with the brothers relaxing, or at least working hard at relaxing, when Dean brings a spark of joy to my little heart by talking about Sam's injured arm. Because I still hold out hope that Sam did something horrid, and we're going to find out what it is as soon as he's out of that sling so they can film the flashback. They keep teasing us with talk about Sam's "monstrous" acts (including the "Then" sequence, which was sadly void of Demon!Dean's hammer) and I refuse to believe that these acts are limited to creepy Lester.



And so does Dean, because he brings it up again in the car, and we have this conversation:


"Between Lester and the others –"
"There weren't others."
"Okay, either way. Maybe we both needed that time off."



We've all said "okay, either way" when we meant "okay, I know I'm right, but I'm not going to argue about it." And of course, Sam does later admit that there were others. It makes me wonder how much Crowley told Dean.



We get another echo of Dean when Kate says, if Tasha can't be stopped, "then I'll take care of it." The stage is being set for Sam to be in a position where he has to stop Dean, the monster he has created. And if we didn't catch that, Dean reminds us again, when he says to Kate, "Tasha's in too deep. You don't ever come back from that. Not ever." From the looks on the brothers' faces, they both know Dean's not really talking about Tasha here. And finally, during the last phone conversation with Kate, Sam circles it with a big highlighter when he says "At the end of the day she was your sister," and Kate replies "No, she wasn't."



And there it is, the front half of the season laid out for us. To save his brother, Sammy did a bad bad thing, and he also created a monster. Dean was too far gone to come back as easily as it seems he did, and maybe too far to come back at all. And Sam will come to a point where he has to forget Dean is his brother and "take care of it."



So, this means some Bad Dean is coming our way. I presume he's going to slide back into S9's Mark!Dean, which is kind of a disappointment. If we're going to have a bad version of Dean, I much prefer Demon!Dean. Mark!Dean was just a dick with no redeeming qualities whatsoever. Demon!Dean was a dick, but he also had redeeming qualities (OH SO MANY OF THEM, I STILL SPEND A GREAT DEAL OF TIME THINKING ABOUT THEM).



Things I loved


Boys in sunglasses (though honestly, if the gods had been listening, Sam would be in aviators)




Boys in game warden uniforms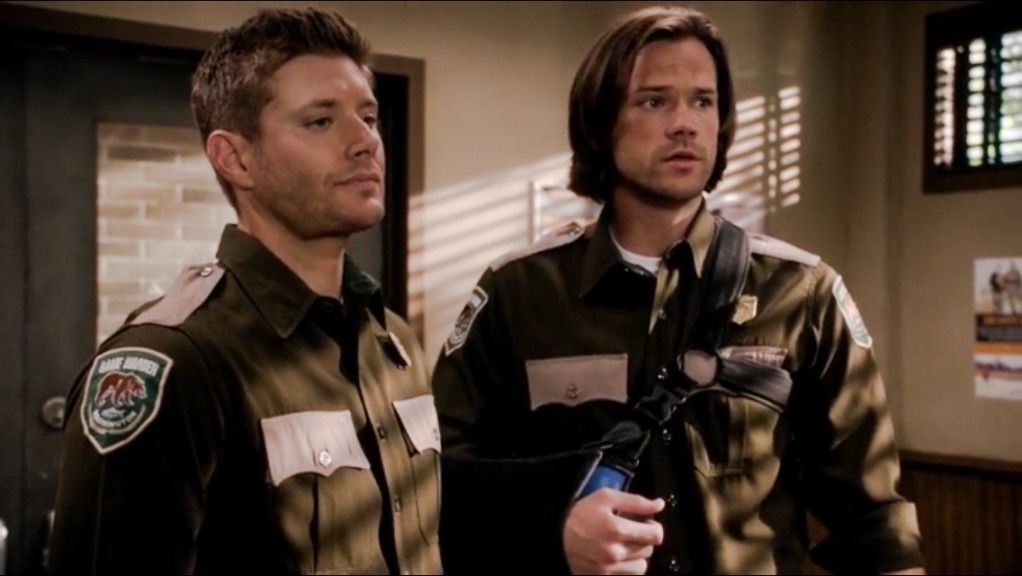 Where do we start? Logging. Ice caps. Bitcoin. Obama.

I was hoping that note would fill in the blanks.
Don't look for me? That note? Yeah, that was really informative, thanks.

Unanswered questions

Did Sam actually have a plan for dealing with Tasha at the cabin, other than killing her?

Where is angry little Cole?

Does Kate only have one facial expression now that she's a werewolf?


And finally, for your contemplation …

It's only a paper moon
Sailing over a cardboard sea
But it wouldn't be make believe
If you believed in me


Interpret that as you will.



As always, I'm unspoiled, including the previews; please help me stay that way.