The "Then" reminds us that ghosts have a hard time letting go, Dean still has the Mark, Sam thinks Dean might have to control it himself, and Baby!Sam was an adorable little bunny and I want to pick him up and cuddle him forever and stop bad things from happening to him.



The opening gives us an idiot who believes Trini, played by Siri (or is it Siri played by Trini?), won't steer him wrong, until she angrily orders his girlfriend Janet out of the truck so she can kill him. And yeah, I laughed at "get out of the truck, Janet!"



In the bunker, Dean has discovered the croisookie, and Cas has discovered riverboat gambling, but no one has discovered where Cain is, and Dean is giving up.



In Iowa, we have guys in overcoats! \o/ And this adorable smile from Sam, when Dean says he regrets making him leave college.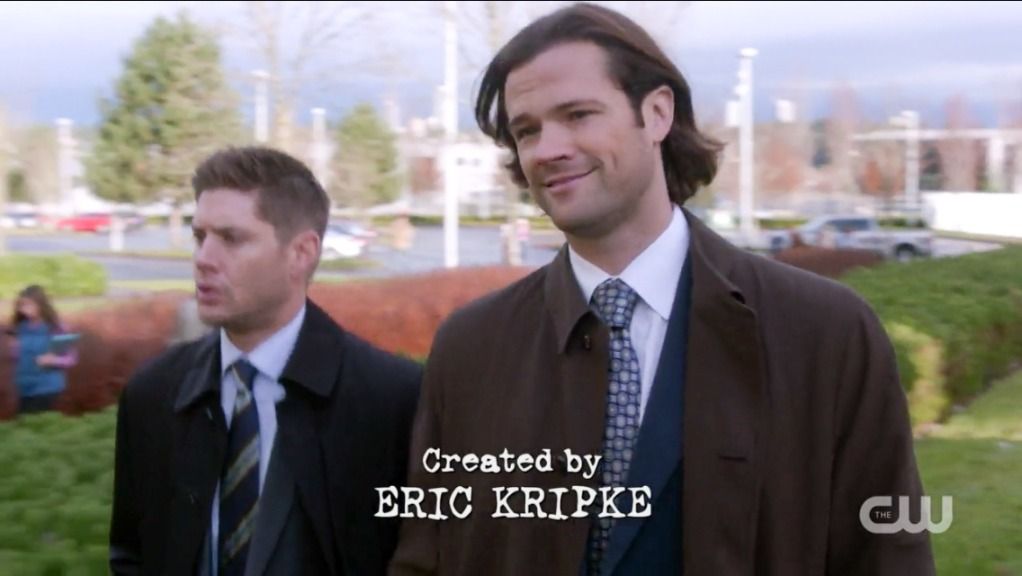 Why does he regret it? Girls. Because Dean spends this episode ogling college girls and cramming food in his face and honestly, it's so blatant that I thought it was going to be a plot point. Like, he's posessed by a hedonist ghost or something. Or he's trying really hard to be pre-Mark Dean and going overboard. But no, he's just a pig. Oh well, it's part of his charm.


Then the guys meet Janet and we have a little Nirvana reunion: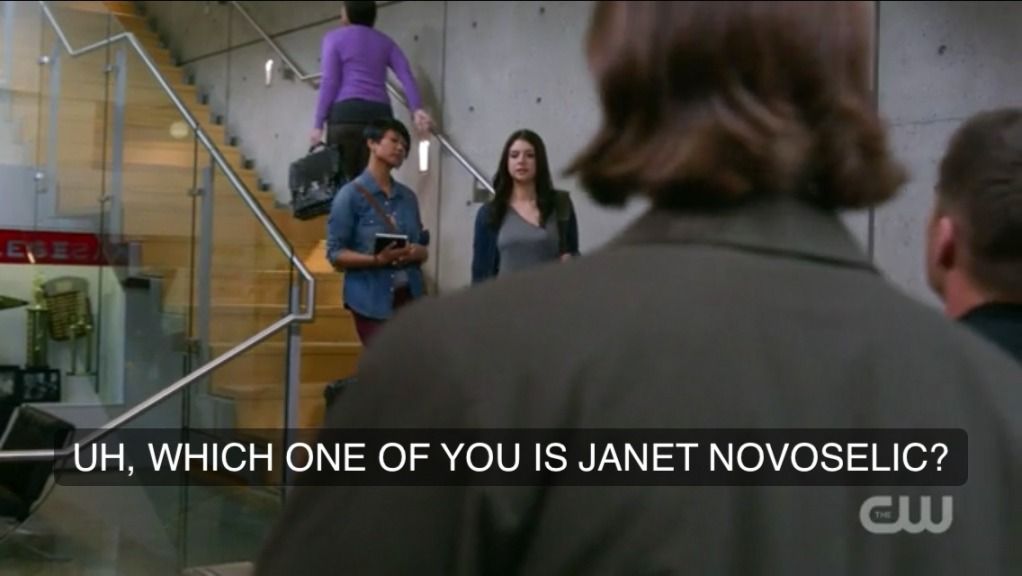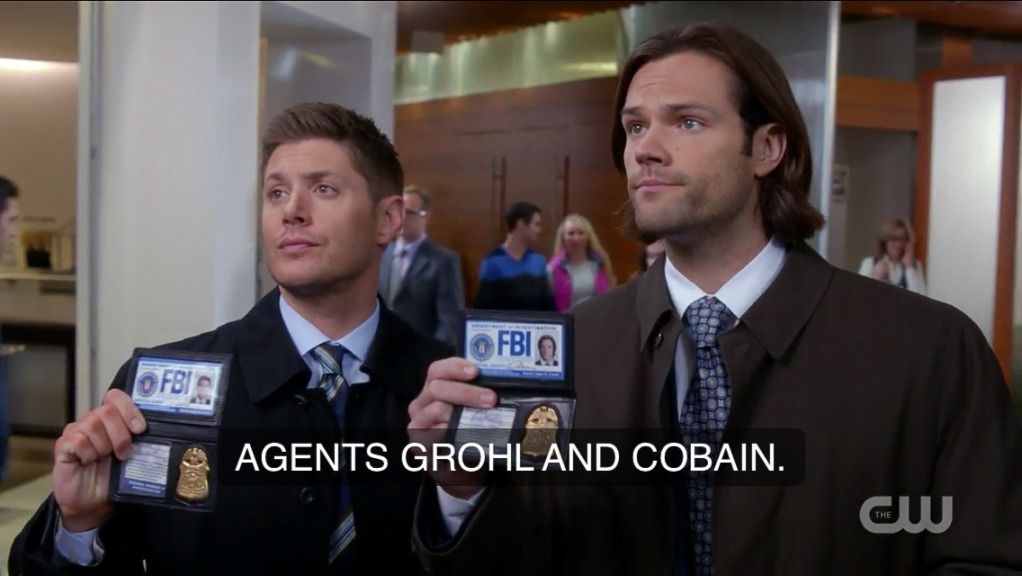 And then millenials, country music, blah blah blah, the guys think the idiot's truck is haunted and they burn it up, but whoops, someone else is dead, and the ghost taunts her with the address where he was killed and no, I don't think that would happen, I don't think she'd even be aware of the address, but whatever. Turns out the ghost is caught in the wifi, and I've got to admit, I don't know jack about wifi, because wifi towers are a new thing to me. But I love that it has a green light on it, and I picture calling those miserable fuckers at AT&T and telling them I'm not getting a signal and them telling me to walk out to my wifi tower and see if the green light is on. And have you tried shutting your tower down and then restarting it, ma'am? Also, I think it's funny that Dean's the one at the sorority house trying to escape the wifi signal, because if it had been Sam at the house with the girl, they'd be screwed. The boy's a wifi magnet. But the redhead admits what happened, the ghost's wife talks him into letting go, happy ending, yada yada yada.


While Sam's saving the day, Dean has an anvilicious conversation with the redhead about guilt and letting go. And then, at the end, Dean admits he's given up on getting rid of the Mark. He tries to position this as moving forward, accepting Sam's hypothesis about being responsible for fighting it on his own, but Sam's not buying it, and neither am I. (Immortality, Dean? You really interested in that?) I'm not sure if this means we'll be ignoring the Mark for a few episodes, or that the shit will hit the fan next week. Either way, I'm unspoiled, please help me stay that way.


So. Not really a fan of this one. I love classic MotW episodes, but this one just didn't do it for me. The redhead was awkward, the plot was kind of flat (and so was Sam's hair during much of the episode), the victims were boring, and nothing was really compelling about any of it. So let's just turn the sound down and look at the pretty pictures.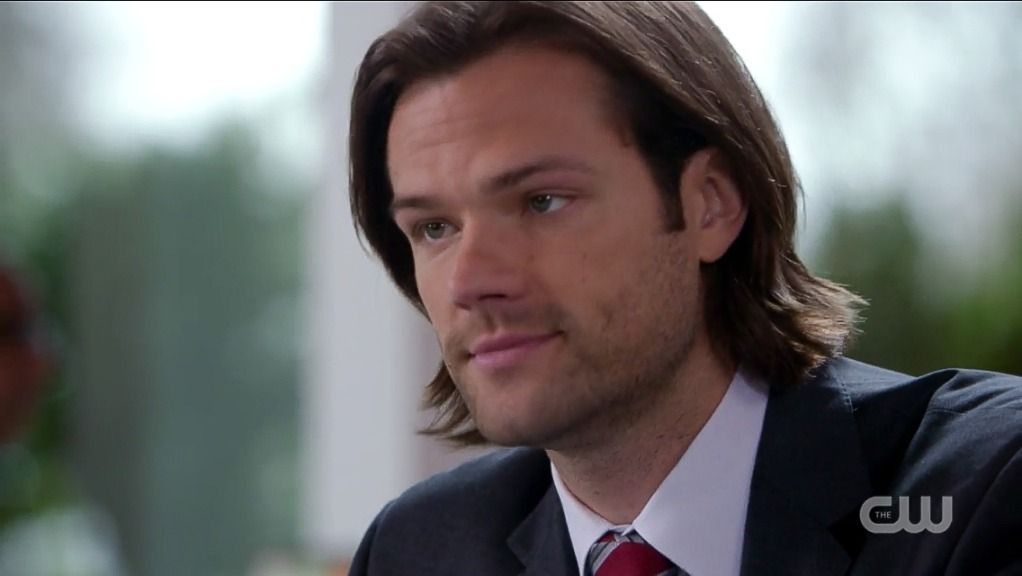 That's better.