Spoilers inside, obviously.



The "Then" warns us this is going to be a Rowena episode.



Now!



Oh, look, it's Rowena. What a surprise. She's trying to recruit witches to join her Mega Coven, and the only interesting thing here is that everyone's reaction to "Mega Coven" reminds me of Austin Powers and everyone's reaction to Dr. Evil's demand for one million dollars. And she finds out Crowley is alive. And we also learn that if you want to stop a demon, just toss a bunch of tables in front of him. Demons can't move furniture. Good to know. Next!



On the Crowley side, Amara is listening to Hitler's Nuremburg speeches translated into English, which makes me wonder why The Darkness would speak English and only English. (I guess someone else wondered the same thing, because later Amara is reading Dante's Inferno in the original Italian.) She's not all that interested in "Uncle Crowley's" attempts to win her affection or loyalty (and when he gives her a too-small bloodstained dress and a book intended for a very young child I tend to agree; I wouldn't be impressed either.) And she's hungry so she's eating souls, with or without Uncle Crowley's permission. Demon souls? Or the souls of the people who inhabited those meatsuits? And when she looks in a mirror, she talks to Dean's version of The Darkness, confirming that they are one and the same. If you needed confirmation of that. And then her consumption of souls leads to a growth spurt and she turns into an angry teenager. And I think that's all we need to know about the misadventures of Crowley and Amara. Let's get to the reason we're here, shall we?



Team Free Will discusses what to do about the Darkness. Sam, for some reason, thinks it's possible God is still in the picture. Does this mean he accepted that he got a sign from God last week? Cas is wrapped up in a blanket and chained to the floor because he's still under that spell that makes his eyes red. I wonder if Visine would cure it. No, apparently only Rowena can cure it, so they need to find her. And I guess we get to thank director Jensen Ackles for the beautiful closeups in this scene, particularly of Sam.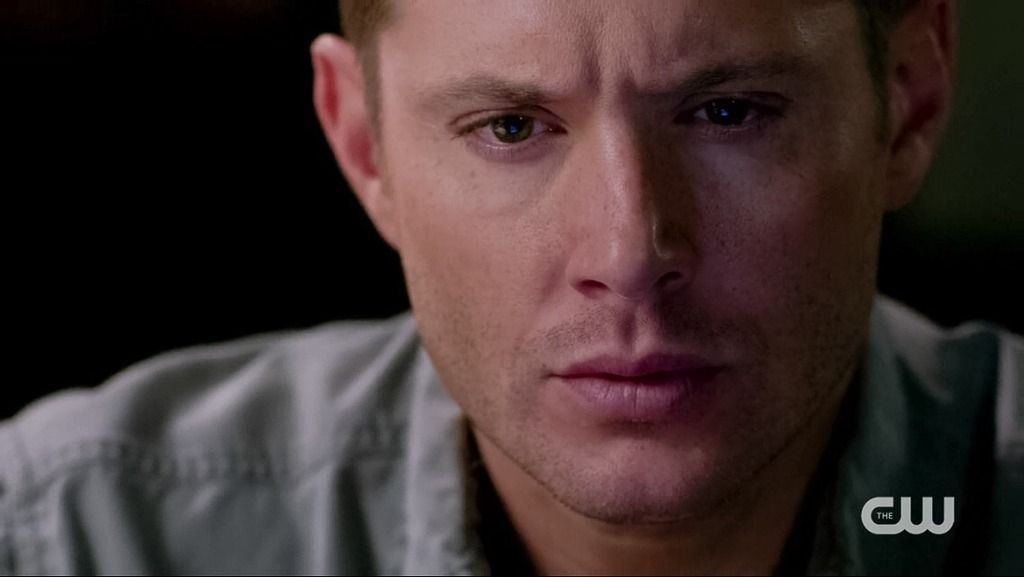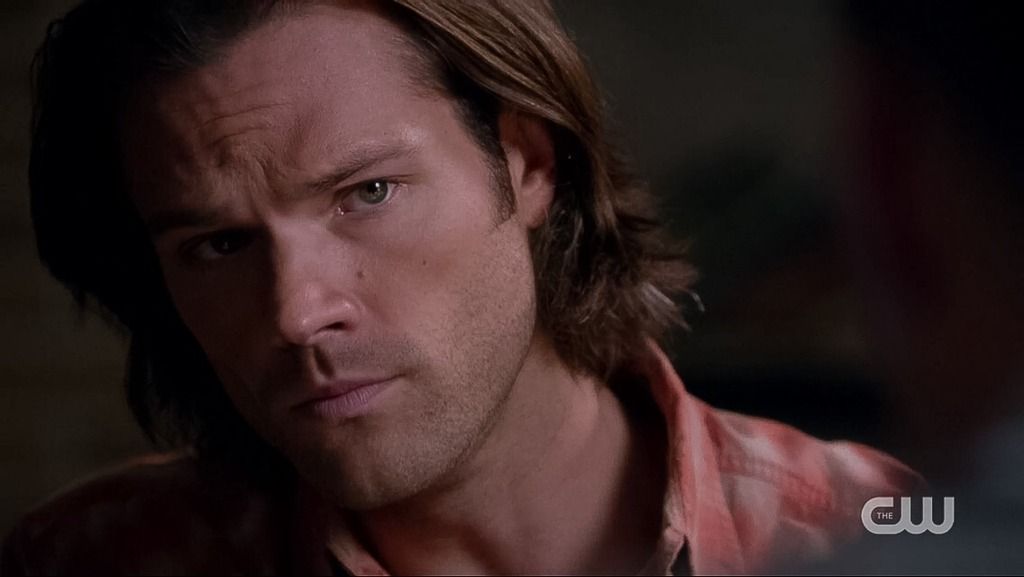 Thank you, Mr. Ackles.


We also get this cute exchange:


I hate to point this out, but you both know who we might need to help deal with the Darkness.
Don't even say it.
He was God's scribe. He did hear about everything.
That's JUST LIKE saying it.


So Sam wants to find Metatron, and Dean wants to find Rowena, and Cas sounds more and more like my snoring bassett hound and then has a seizure. When he comes out of it, he tells them he can hear angel radio, and he knows the angels are looking for Metatron.


Things I like about this scene:


- The way Dean steps back a bit when he asks "Are these voices telling you to hurt someone?"
- The lighting - all of the Bunker scenes are really beautifully lit.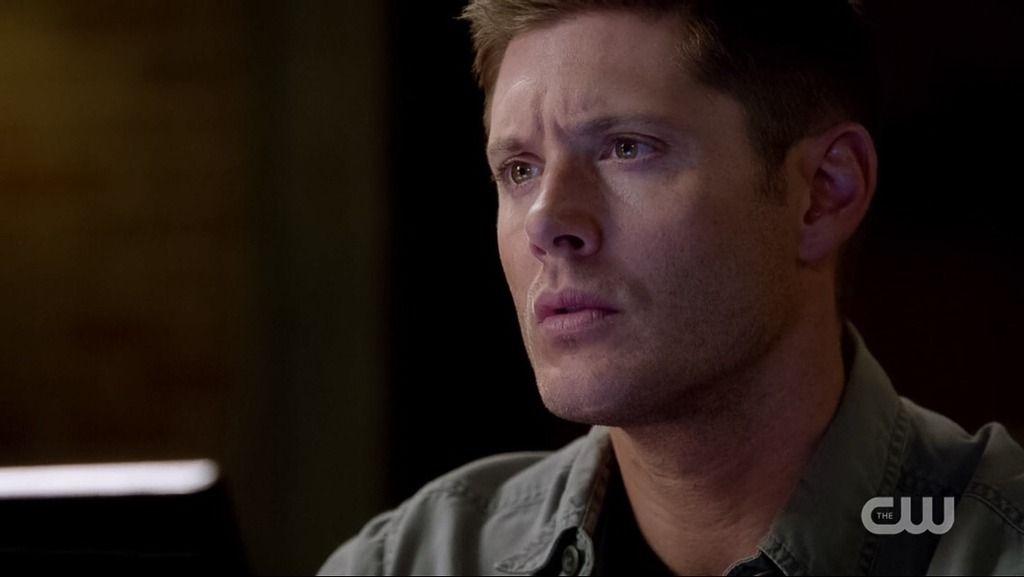 I watch it for the lighting.


There's a cute throwaway scene where an angel and a demon commiserate about how much their jobs suck, and maybe start to plot an overthrow.


Power to the people, my friend.
Well, not actually people.
You know what I mean.


Maybe it's not a throwaway. Maybe these two will actually bring start a coup. That would be interesting. (Maybe.)


Sam and Dean suit up \o/ and talk to the witch who survived lunch with Rowena, and there are several things to enjoy in this scene:


- Sam throwing the jargon around when he explains "scrying" for the audience
- The deft grabbing, tossing, and catching of the witch's purse
- Dean's "and I have a fake badge" wink \o/ and grin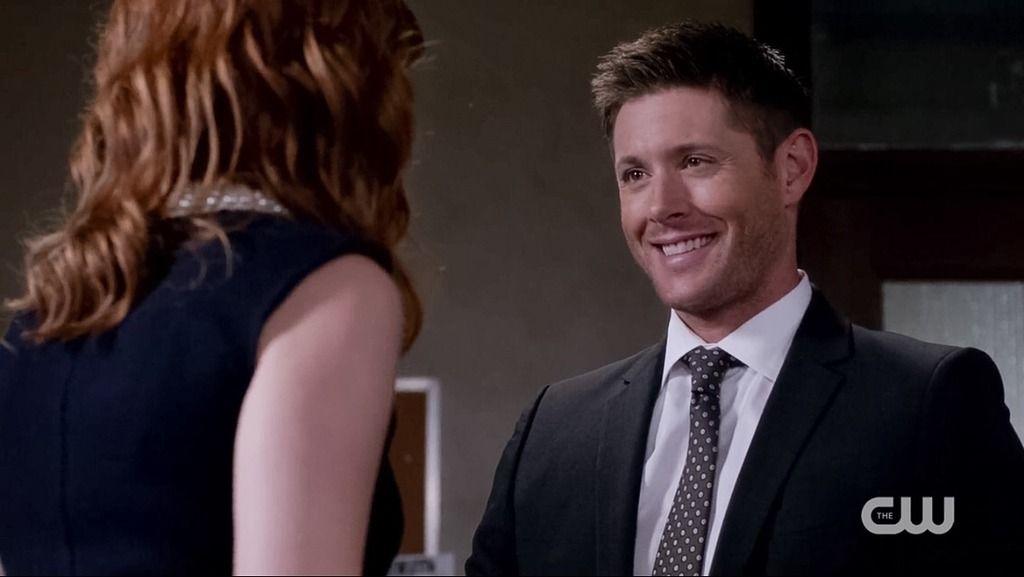 But my boobs are real.


The witch locates Rowena for them, and they capture her by pretending to be a taxi driver, which gives us Dean in a Hawaiian shirt and sunglasses, and if that isn't a good time, I don't know what is.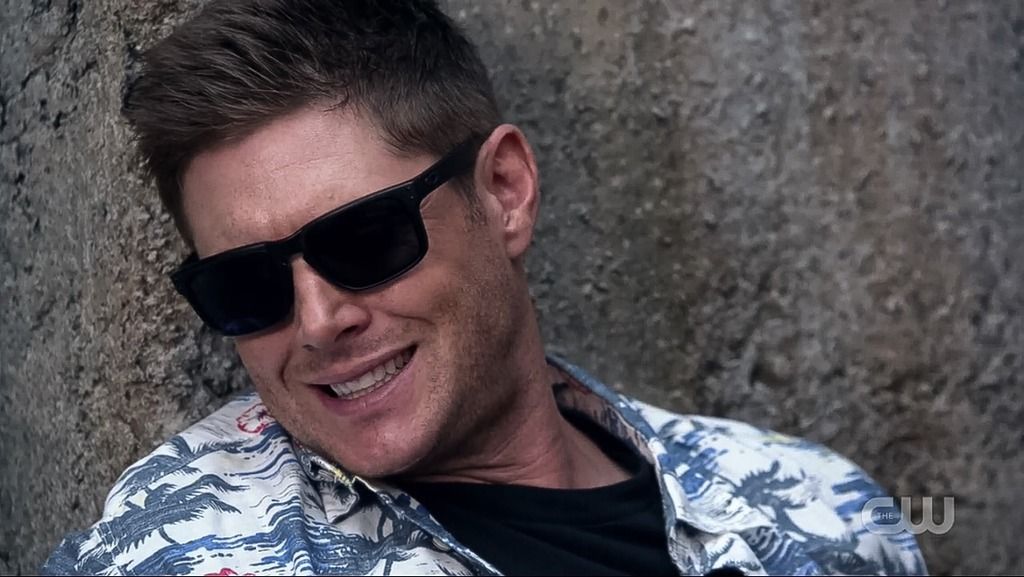 Sand between our toes, Sammy.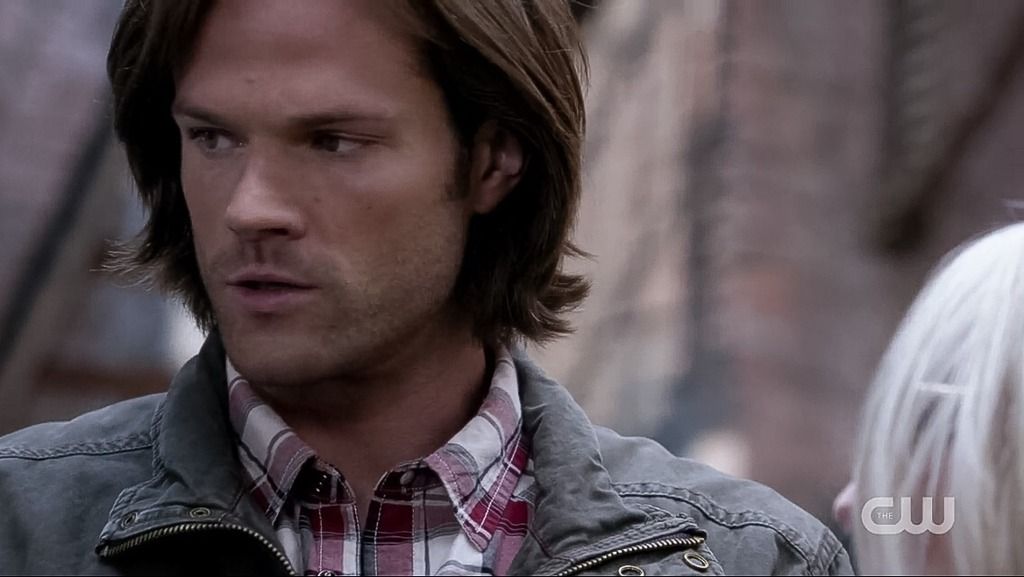 And once again, thank you, Mr. Ackles.


They chain her up in the dungeon and go to retrieve Cas, but he's gone, because he hulked out and headed for Metatron's last known location. Did the Busty Asian Beauties ad activate the spell? Really, that little joke can stop anytime. Anyway. Good things about this scene:


- Dean flinging his feet onto the table and kicking off Rowena's bags
- Annoyed Sam/panicky Sam
- Rowena sparring with Dean (confirming that I don't like her on her own, but I love her with the Winchesters)
- "What new Hell has Dean Winchester unleashed upon the world?"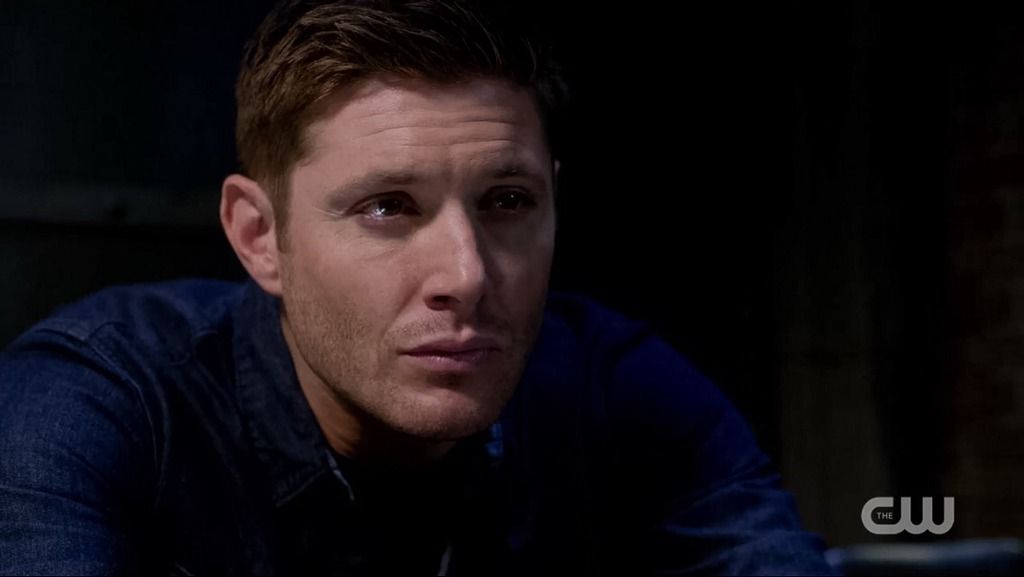 I look damn good in this dungeon.


While the boys driving around tracking Cas, Rowena reveals her deal with Sam. Dean didn't know about it, and he bitches about secrets, but since this one happened before the big "no more secrets" talk, I'm going to give Sam a pass. (Also? I'm pretty sure he didn't tell Dean he was infected by the Darkness. Just a reminder.)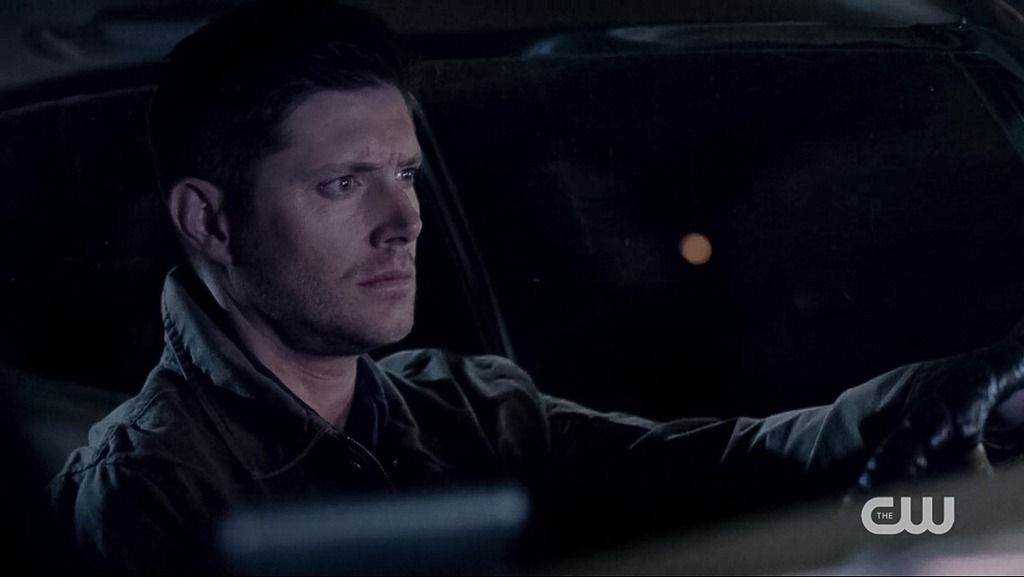 Da fuq?


Aw crap.


Hulked-out Cas attacks a woman who is truly Horror Movie Stupid and I'm not saying she deserves to die, just that sometimes Darwinism works. Oh, but she's not going to die, because here's Dean. Dean convinces Cas to let her go, and then gets beaten for his trouble. Though not as badly as the last time Cas beat him up. Or the last time he beat up Cas. Just enough to, you know. Look good, with the blood and all. (Note to those of you who may be new here: I have a problem.)


Dean is saved when Sam and Rowena show up, with Sam holding a gun to Rowena's head and forcing her to undo the spell.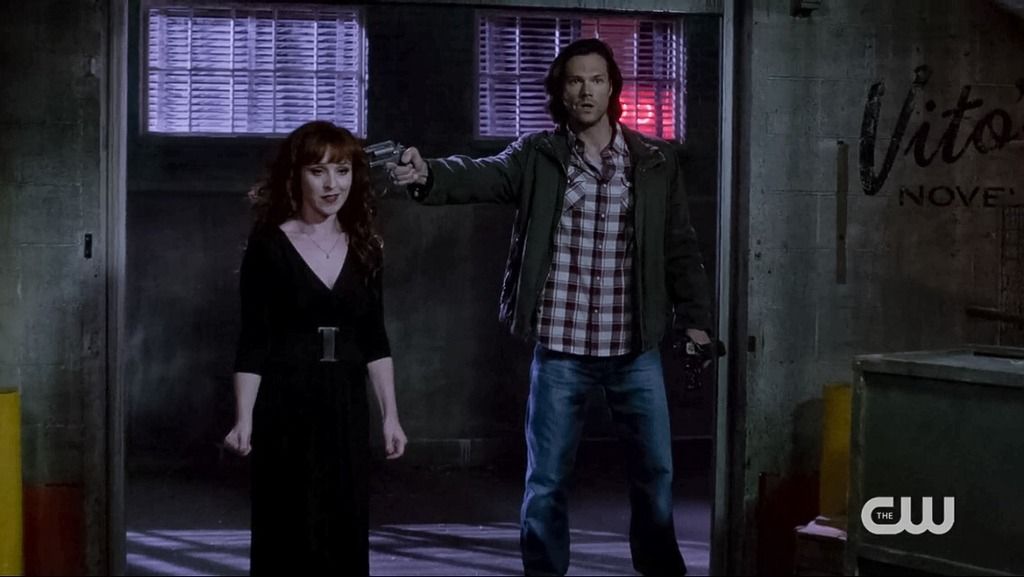 Sam's legs. You're welcome.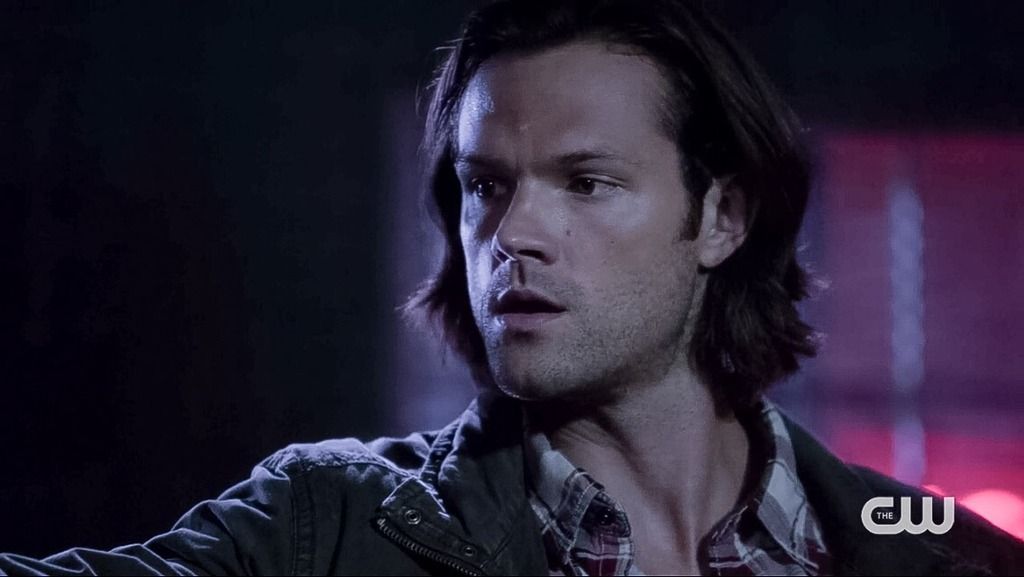 Sam's throat. You're welcome.


Cas goes into convulsions again when Rowena breaks the spell, so there's some head-holding and anxious "Cas!" from Dean for the Destiel fans.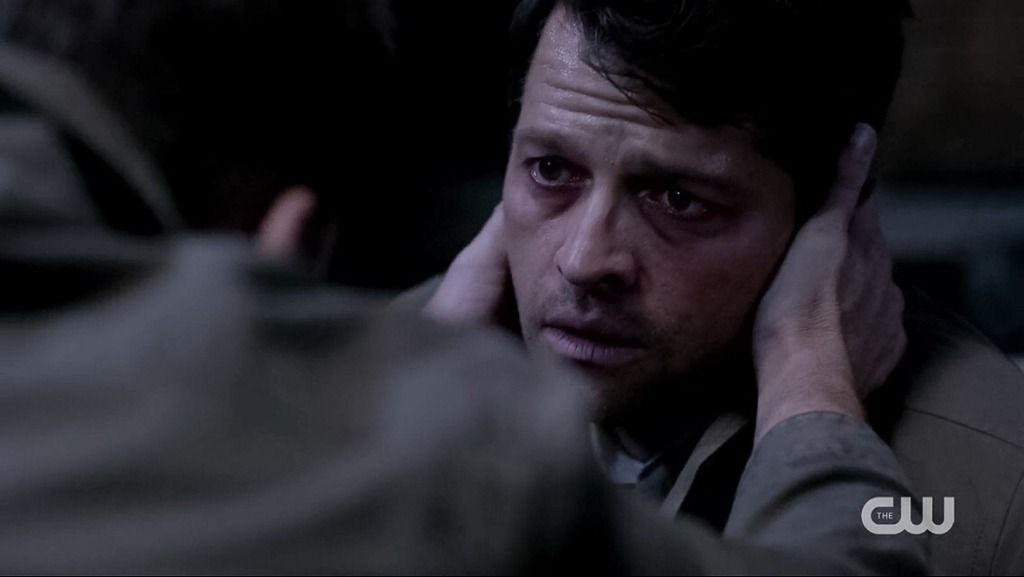 For the Destiel fans. You're welcome.


And then Rowena flings Sam and his witch-killing bullets aside and makes her escape. Well, who could have seen that coming?


Back at the bunker, the Impala is parked outside as always, because they apparently lost the key to the garage. I guess that's why Sam always has to steal a car when he needs one. Dean has an ice pack on his bruised face, but he insists Cas doesn't owe him an apology, that it wasn't his fault, because he was under a spell. "Besides, I had it coming." Which is true. But it's also true that Dean was under a spell too, so, mixed messages here. (Also, Dean's hair is longer. Not Demon!Dean long, but I like it.)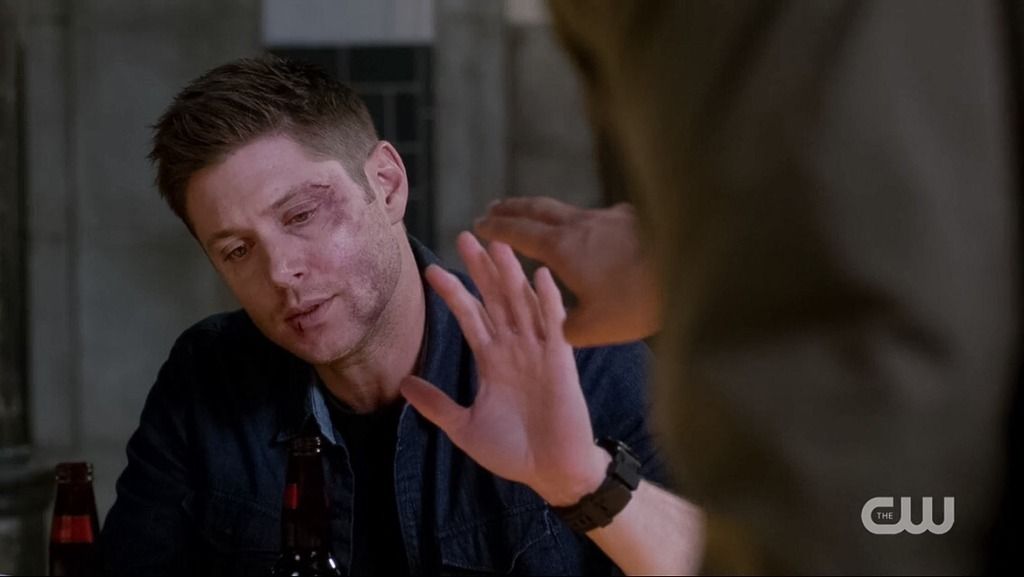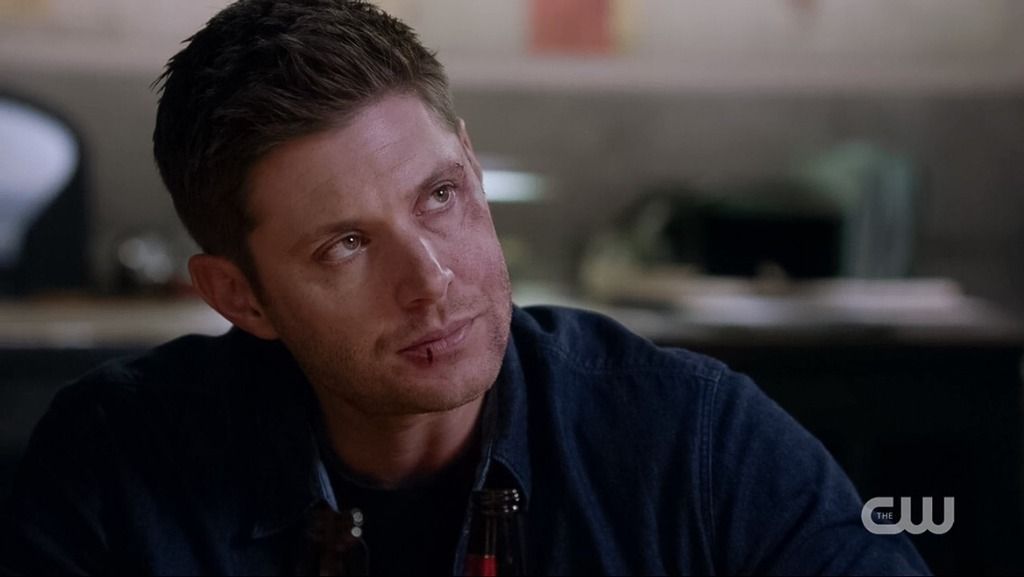 I know it looks like I'm mad at you, Cas, but that's just my special combination of guilt, self-loathing, angst, and manpain. And my pretty pretty bruised and bloody face. Because Caranfindel has a problem.


(You know what's wrong with this review? Needs more Sam.)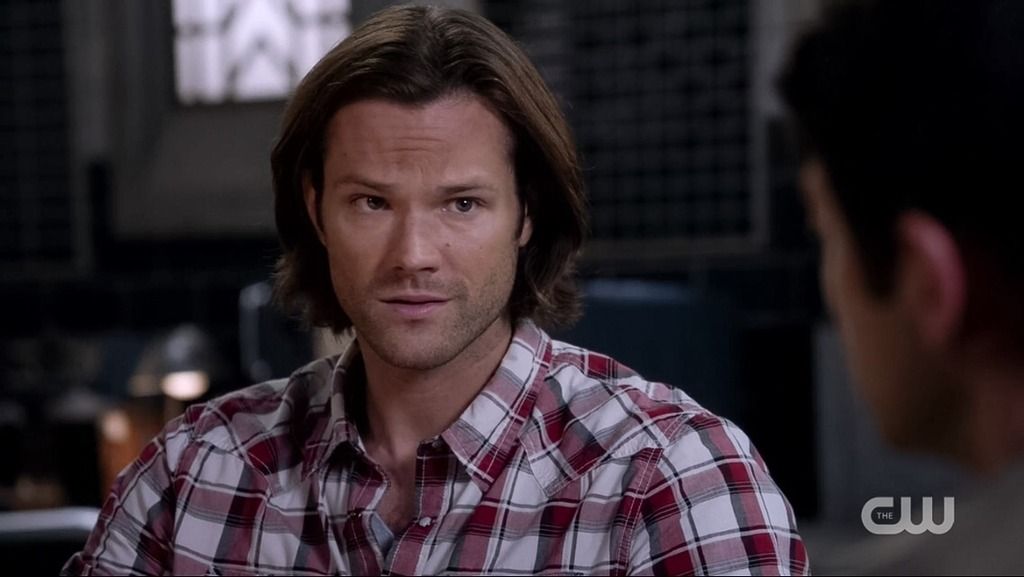 Ah. That's better.


So. This one was kind of meh to me. Better on rewatch, maybe because my expectations were lower. I'd still watch it again gladly, because my god, the guys are so freaking pretty in this one. I know I say that a lot, but this episode is really spectacular. I swear, those loving closeups of Sam make me think there might be some truth to all that J/J fanfic. L ooking at this one, and Soul Survivor (which he also directed, right?), I think we need a lot more direction from Mr. Ackles. A lot more.


I'm unspoiled, including the previews, please help me stay that way!